About the degree programme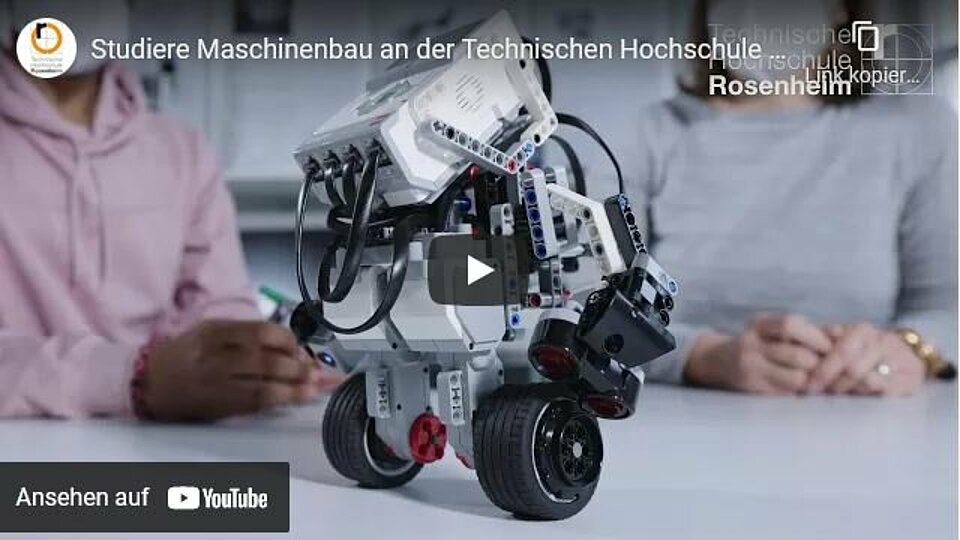 Please note: Once you watch the video, data will be transmitted to Youtube/Google. For more information, see Google Privacy .
A course of study that sets the course and breaks new ground
Start: Winter semester
Degree: Bachelor of Engineering (B.Eng.)
Duration: 7 semesters (6 theoretical and 1 practical semester)
Dual study programme: Study programme "with in-depth practical experience" or combined study programme possible, further information on dual study models
The degree programme is not subject to admission restrictions
Whether electronic devices, precision mechanical tools, automobiles or production plants - mechanical engineering is the linchpin of almost all goods in our modern industrial society. Engineers in this field create design drawings, develop prototypes for machines and plants, plan, control and optimise production and thus keep technical progress going.
The engineering education in Rosenheim combines the fundamentals of mechanical engineering with areas of electrical engineering, computer science and business administration and is particularly application-oriented thanks to many projects and well-equipped laboratories.
Course content
The study programme consists of six theoretical and one practical semester. The preliminary practical training of twelve weeks duration in a metalworking company should be completed before the study programme if possible, but at the latest by the end of the third semester.

After comprehensive basic training in mathematics and the natural sciences in the first two semesters, students choose one of the two core modules in the third semester:
Design and development
Production engineering
While the focus on design and development primarily involves the design and layout of products and machines, the focus on production technology concentrates on the technical and organisational aspects of production. The topics of energy technology and the basics of project management play an important role in both focus modules.
During the fifth semester, the practical study semester takes place in a company and is supplemented by practical courses.
The seventh semester is reserved for writing the Bachelor's thesis, and students also take part in a Bachelor's seminar..
Career Opportunities
Mechanical engineering is a career field with very good job prospects and interesting prospects. According to the Association of German Engineers (vdi), there were 67,800 vacancies in engineering professions at the beginning of 2013. And the trend is upwards. Since mechanical engineers work in almost all branches of industry, numerous professional fields are open to them after graduation - especially in planning, design or production as well as in environmental and energy management.

Thanks to their broad-based studies, mechanical engineers are as much in demand and versatile as technical development itself. The main tasks lie in the areas of product development, production, manufacturing technology, product application, operational technology, operational management and automation as well as in plant construction and energy technology. In addition to these core areas, mechanical engineering is linked to all other branches of industry and opens up a wide range of career prospects for engineers. Here is just a brief overview of the multitude of possible fields of employment:
Project planning and design
Operational planning and management
Production and assembly
Automation technology
Quality and environmental management
Energy and safety management
Technical consulting and sales
Research and Development
Freelance work
Application and admission
Start of study: each winter semester