About the degree programme
Come to the heart of wood technology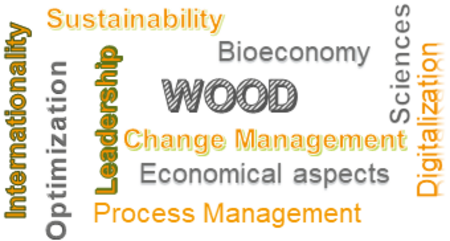 The range covered by wood technology and thus the requirements for engineers are constantly evolving. A wide range of knowledge and skills are expected in managerial positions in the international woodworking industry. This is precisely what the international Master's Programme in Wood Technology offers.

Course content
On the one hand, the Master of Science degree programme deepens modules that place high demands on theoretical knowledge and analytical thinking skills. In particular, first priority is given to mathematical-scientific basics and the general scientific deepening in the area of legal and economic aspects as well as the development of management skills.
On the other hand, in addition to some compulsory modules, students can choose from a diverse range, e.g. Systems Engineering, Special Aspects of Wood Processing, Change Management, Supply Chain Management, Quality Management, Furniture Safety and Testing, as well as Innovation Management and New Product Devolopment or Simulation.
The Master's thesis should provide evidence of scientific and problem-solving work related to complex problems from the wood industry and related economic areas using scientific methods.
Full- or part-time studies
All our students - regardless of whether they are full-time or part-time students - attend lectures together. The course contents are largely independent of each other, which means that the modules can be completed in two or four semesters. We support you in planning your personal study schedule.
Since the winter semester 2021/22, we have been offering part-time studies in a combination of attendance blocks and online lectures. Combine your Master's degree with your job - you don't have to be in Rosenheim all the time. Ideally, your employer will support your studies with flexible working hours and, if necessary, a reduction in working hours.
You want to complete a semester abroad or a voluntary internship - within the framework of a semester off, this is also possible in the Master's programme.
International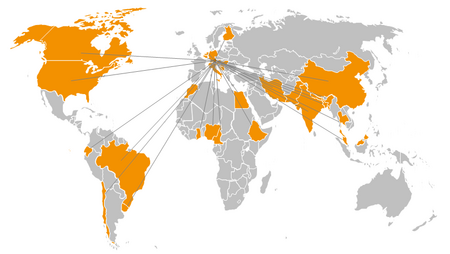 Students from a wide range of countries have completed their Master's in Rosenheim. Together with our international lecturers, they make our degree programme a truly international one.
Study and Examination Regulations
Career Opportunities
After your Master's degree, you are very familiar with new technologies in the international environment of the wood industry. You have further developed your ability to structure, process and decide on complex issues. Analytical thinking as a prerequisite for an engineering approach was just as required as responsible action in technical projects.
With the skills you have acquired, you will be able to support companies in the free market, authorities or institutes in the wood, machine and plant industry, as well as wood construction and interior engineering with your practical knowledge.
Fields of activity can be found in planning, project planning, production, marketing and sales, quality management as well as research and teaching.
As a "Rosenheimer", you have access to a worldwide network.
The ideal basis for PhD studies.

Application and admission
Course start: winter semester
Application period: 1 April to 15 June - extended until 15 September
Appllication mode: online
Admittance requirements:
A Bachelor (min. 180 ECTS points) or Diploma degree in the study courses wood technology, timber construction & redevelopment, interior engineering or related areas, English language skills at level B2 of the Common European Framework of Reference for Languages (CEFR) and a letter of motivation.
NEW - as of winter semester 2024/25 (next year)
If you do not have a German university entrance qualification, you must provide evidence of German language skills at level A2 or higher according to the Common European Framework of Reference (CEFR).
Do you have any further questions?
If you are not sure whether you meet the admission requirements or have other questions about the Master's programme, please contact the academic advisory. We will be happy to advise you!