About the degree programme
CREATE. FUTURE. NOW.
We are creating the future. Because our society already needs new forward-looking solutions to curb climate change. We are making valuable contributions to this by rethinking and revolutionizing the "Energy and Building World" with innovative and fascinating approaches.
Our Energy and Building Technology degree program (short: EGT) is therefore a sustainable investment in the future of all of us. But also in yours. Because you will secure promising opportunities in research, teaching and career.
You have the choice between the full-time study model and the "dual study model" studies with intensive in-company training. With the study model "studies with intensive in-company training" you are employed by a practice partner of the TH Rosenheim during your EGT studies and already gain valuable work experience.
Study EGT and let's CREATE. FUTURE. NOW.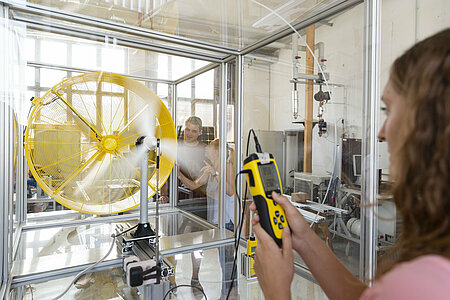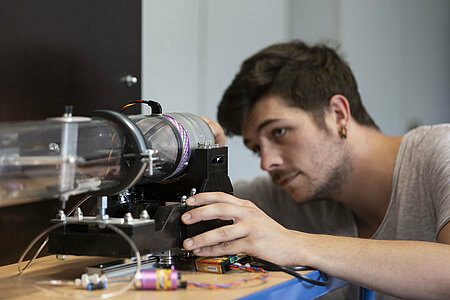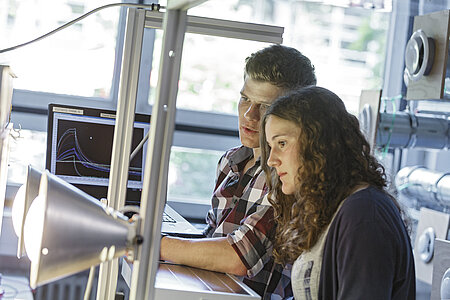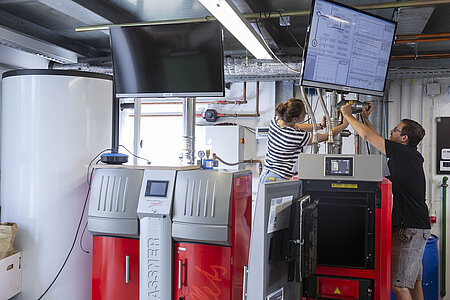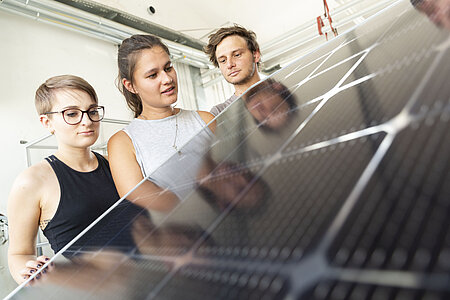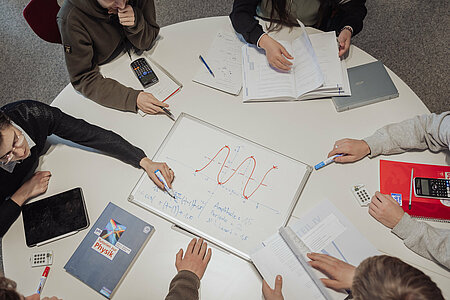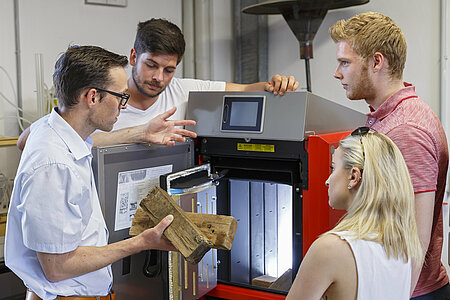 Study Energy and Building Technology at the TH Rosenheim.
In addition to a sound basic technical education, you will gain a lot of know-how on the planning and implementation of climate-neutral buildings and on technologies for a sustainable energy supply.
You can also look forward to innovative teaching methods that teach math and physics interactively and more easily in two specially designed SCALE-UP rooms (student-centered active learning environment for upside-down pedagogies), a familiar atmosphere and a lot of practical relevance, e.g. through the dual study program.

Career Opportunities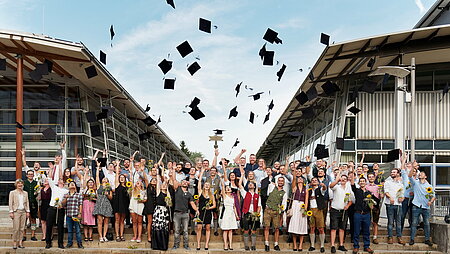 The Graduats of the Energy and Building Technology Degree Programme have access to a wide range of fields of application.
The activities performed there include among others:
Energy consulting
Planning and development of energy technology systems
Technical sales and marketing
Research
The areas of application are typically found in the following industries:
Planning offices for building physics and technical building equipment
Property developers and housing associations
Industry
Energy suppliers and public utilities
Contractors (trades)
Application and admission
Admission Requirements
The Bachelor´s degree Energy and Building Technology is not subject to admission restrictions.
Prerequisite for your application is one of the following qualifications
general university entrance qualification
subject-related university entrance qualification

advanced technical college specialized general university entrance qualification

master craftsman's examination plus proof of counseling interview at the Rosenheim University of Applied Sciences

completion of two years of vocational training and at least three years of professional experience in a field related to the study program, a counseling interview as well as passing a two-semester trial study period
Your personal requirements
You should be interested in environmentally compatible and economical energy supply, especially for buildings. We also recommend an affinity for mathematics and science (FOS/BOS technology level) and engineering subjects, such as Physics or Thermodynamics.
Application for the dual study option "Study with intensive in-company training"
In order to apply for the dual study option "study with intensive in-company training", you must conclude an educational contract with one of our practice partners. The practice partner must have concluded a cooperation agreement with the TH Rosenheim. You can find our practice partners here: https://www.th-rosenheim.de/studium-und-weiterbildung/studienangebot-der-th-rosenheim/duales-studienangebot/wegweiser/praxispartner. Please select Rosenheim Technical University of Applied Sciences and the study program Energy and Building Technology.
Contact
For all your questions regarding the Bachelor´s degree Energy and Building Technology, please contact.
For questions about your dual study program
Your core team of Academics and Professors