About the degree programme
Academic training for evidence-based nursing care - with training allowance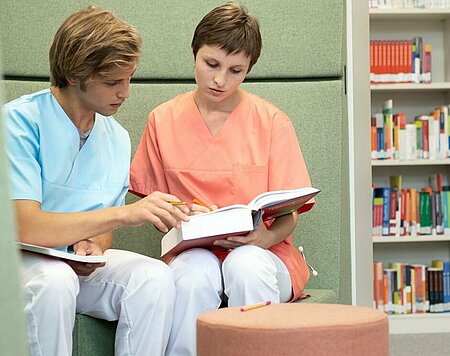 Due to the change in care requirements in our society, a glaring shortage of skilled workers is becoming apparent. The tasks involved in caring for people of all ages are becoming increasingly demanding due to highly complex care requirements, new diagnostics, therapies and rehabilitation concepts. Professional experts in the direct care of people in need of nursing care are in great demand to introduce suitable, science-based concepts for nursing care.
In the training-integrating bachelor's degree program in nursing science, female nurses (B.Sc.) or male nurses (B.Sc.) are trained at university level for direct work on people of all ages who need nursing care and are thus prepared scientifically and practically at the highest level for their professional activity in direct nursing care.
Our newly developed study model offers decisive advantages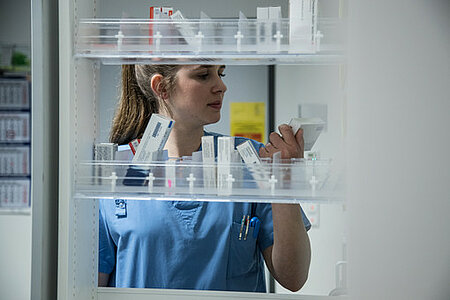 Qualification PLUS
Acquisition of an EU-wide recognized state professional qualification as a nursing specialist (B.Sc.). This opens up a wide range of international career opportunities.
Education PLUS
Nursing schools and the university combine their expertise to create a first-class overall package.
Financing PLUS
Fixed income as part of the training allowance
Career entry PLUS
Highly attractive to employers due to broad skills profile and work experience gained during studies.
Enjoyment of learning PLUS
Varied through a combination of lectures, seminars, classes, simulation learning in the laboratory and practical assignments.
Course content
Contents and course of studies
The bachelor's degree program in Nursing Science B.Sc., designed in accordance with the new Nursing Professions Act, has been offered at the Rosenheim location since October 2020. This can be studied in two variants. In the dual study model, a training contract is also concluded with a provider of practical training and thus the student receives a training allowance over seven semesters of study. Registered nurses can study the same course alongside their professional activity in the study model for registered nurses, have their training credited to their studies and thus shorten their studies.
Skills and simulation lab nursing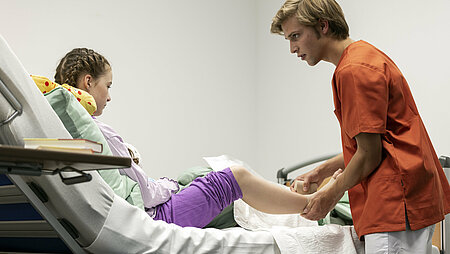 Developing science-based nursing competence at the interface between the learning sites of university and nursing practice
Head of laboratory: Prof. Dr. Katharina Lüftl, Head of Nursing Science program
► to the Skills and Simulation Lab Nursing
Career Opportunities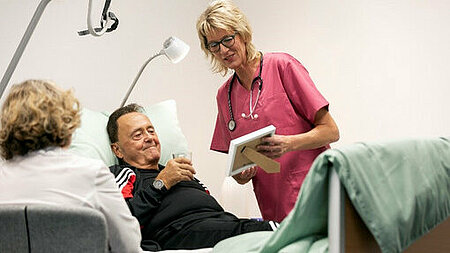 As a graduate of the dual bachelor's degree program in nursing science, you will have learned the competencies for evidence-based nursing action in direct patient care and in all nursing settings. This will allow you to take on a wide variety of roles and responsibilities:
Promote research-based, nursing practice: Identify need for, scientifically substantiate, implement, and review alternative action strategies.
Advising people in need of care and their relatives
Coordination of home, outpatient and inpatient care (transitional care, discharge management, case management)
Project collaboration in nursing and health care research
Management of development projects in nursing practice
Assumption of nursing-related positions in the health care system (public health department, health insurance, nursing care insurance, home supervision, etc.)
In view of the demographic development and increasing chronic diseases, nursing care is becoming more and more complex and requires highly qualified nursing staff. The degree program provides scientific and practical training for this purpose.
After graduation, the foundation for a scientific career can be laid with a master's degree and a doctorate.
Application and admission
Admission requirements
Advanced technical college entrance qualification, specialized/general university entrance qualification or
Master craftsman's examination plus counseling interview or
At least two years of vocational training and at least three years of work experience plus a counseling interview at the university as well as passing a two-semester probationary period
Presentation of an extended certificate of good conduct
Medical certificate confirming suitability to exercise the profession or to take up the course of studies
In the case of a higher education entrance qualification acquired abroad, proof of knowledge of the German language with a language level of C1 according to the Common European Framework of Reference for Languages.
According to the QualV, specialized further training, such as that of the specialist nurse for intensive care, counts as a master's examination.