Medical Technology
Career Opportunities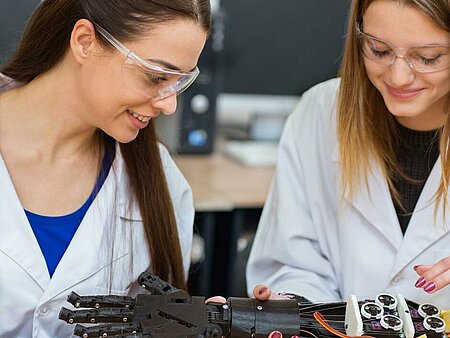 Medical Technology graduates are employed in many fields of industry, including research and development of medical technology products and procedures in companies, the admission of medical devices, quality management, research and teaching, the installation and maintenance of medical devices in offices and clinics. They also take care of training and education of personnel on the function, application and maintenance of their products and services.
Learning Content
Whether dressing material or entire surgical robots, from simple orthopaedic aids, ultrasound devices or other imaging procedures, to complex prostheses and high-precision implants, medical technology encompasses a wide range of products and procedures that save lives, significantly improve the chances of recovery and generally increase people's quality of life. The medical technology specialisation teaches all the skills required for the development, production and market implementation of cutting-edge products: From design and processing methods to environmental management and licensing, the degree programme covers all the requirements placed on future medical technology engineers. Modern laboratories and numerous ongoing research and development projects ensure the proximity of the study programme to practice.
Module Descriptions
FWPM modules
FWPM modules are specialist required elective courses offered during the later semesters. Students can choose from a portfolio of courses to personalise their engineering profile with interdisciplinary skills and gain specialist knowledge and methods of their discipline. A selection of courses is announced by the faculty in advance for each semester.